February 2015
"Yomiuri Shimbun" reported futsal friendly match in Indonesia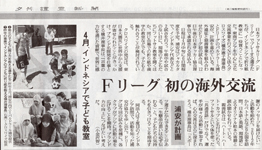 On February 12th "yomiuri Shimbun" evening edition was published an article about futsal friendly match planned in Indonesia in April this year.
* The entire article is in Japanese.
Summary
XYZ(cross wise) and Bardral URAYASU, belonging to the Japan Futsal League, hold a combination of overseas expedition and charity as the first experiment of the League. It is planning about 6 days in mid-April. Bardral make friendly matches under the name of "Heart Heart Cup" with Indonesia National Team. Also In the morning and day there is no plan of games, players interact with children through holding futsal workshops to children in local, origami and kanji workshops at the same venue. Not only futsal as "common language" with the body, they participate in various activities, and deepen the hearts of exchange. Ms. Yokoi, president of cross wise told "Sometimes made easy only by athletes. I believe, with a great deal of effort, feelings are transmitted by heart and heart." She hopes them to attract the children's feelings.