February 2013
Interviewed article in KDDI online magazine "TIME&SPACE"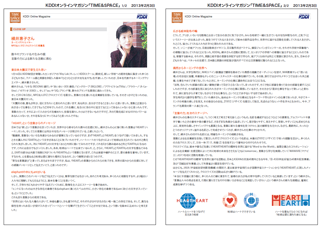 President Keiko Yokoi was interviewed by KDDI (Japanese telecommunications operator)'s
"TIME&SPACE ONLINE"
which picks up remarkable or leading people in various fields.
* The entire article is in Japanese.
Summary
"The naming specialist challenge herself to achieve new activities by the power of words." On January 16th, 2013, in the opening ceremony of Khy Lek KDDI school in Cambodia, which is built by the donation from KDDI Foundation, Ms. Keiko Yokoi handed over her picture books "You are the only one, but never a lonely one" to the students. She has been made the most use of the messages received from words, for the business of brand-name development. After the Great East Japan Earthquake, the naming specialist realized that words have a power to take action in the society. We heard a Japanese word "KIZUNA (a con bond)" a thousand times after the earthquake, but a memorable word for her was "HEART". Thinking of "HEART", she found some messages from HEART such as; "Connecting HEART to HEART, the word EARTH is found in the middle" and "Reading the 5 letters HEART starting from 'E', the word 'EARTH' appears." Then, the story of the book was born to tell the messages from HEART clearly and easily. As one of her new challenges, while partnering with one company in each country, she has donated the books to the children of many countries of the world. This project is officially endorsed by "40th Year of ASEAN-Japan Friendship and Cooperation" and "Japan-Vietnam Friendship year". Ms. Yokoi's new challenge is developing and getting excellent results.