January 16, 2013
The picture books were donated to Khy Lek School in Cambodia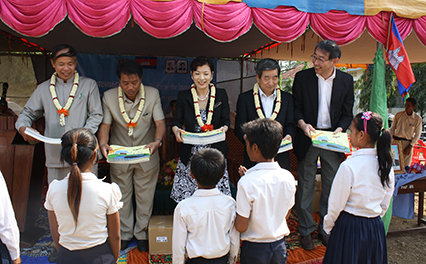 Opening ceremony of the 8th KDDI School in Khy Lek, Banteay Meanchey Province.
The picture books "You are the only one, but never a lonely one" were donated to each student of opened Khy Lek School with support by KDDI Corporation and KDDI Foundation.
Our Representative Director Keiko Yokoi made speeches at the opening ceremony of the school.
After that, the children played with the balloons, the soap bubbles, and origami which we brought, and it was full of smiles around us.
This activity by KDDI Foundation and XYZ is going to be forced continuously in Cambodia from now on.