April 2014
Contributed an article to "Amigo-kai Dayori"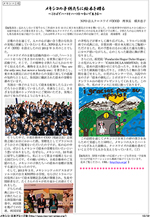 "Creating life with words that connect heart and heart" – a message from the president Keiko Yokoi to children in Mexico contributed to "Amigo-kai Dayori", a Mexican journal which is published by Mexico-Japan association.
* The entire article is in Japanese.
Summary
I established Nonprofit Organization XYZ (cross wise) in March 2012 with the objective of contributing to the realization of an enriched society in which people's hearts are brought together through the power of words.
As a main part of the activities of XYZ is spreading HEARTHEART spirit to the world, I created the picture book "You are the only one, but never a lonely one" for learning from the way people live and joining hearts. The book is donated to children of many countries of the world to express our gratitude for the support from all over the world for the Great East Japan Earthquake disaster.
I studied abroad in Mexico 33 years ago, so I feel like Mexico is my second home. With the support of NISSAN, children in Mexico received the book. At the donation ceremony in Kyoto elementary school and Tlalpan ward office, a lot of children and the project members gave me a warm welcome. My heart was filled with gratitude.
I spent time with children at an orphan home and a children cancer center. A little girl I met in the center gave me a painting in return for the picture book. It lovingly decorates my office.
Through this trip in Mexico, I felt a bond between Mexico and Japan is very close. A tremendous emotional support from the experience of connecting hearts with people in Mexico is a great help to me to move on.